The Panama Deception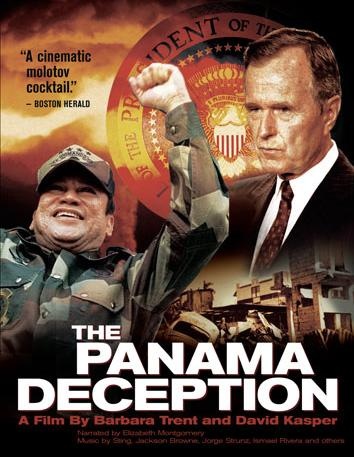 George Bush senior was responsible for the military invasion of Panama in 1989 and the massacre of an estimated 3000 to 4000 thousand innocent defenceless men,women and children and there bodies were bulldozed into mass graves before the media arrived.
---------------
RT News -The Panama Deception - 4:24mins
At 1:38mins Barbara Trent,director of The Panama Deception
RT News looks at 21 years after US military invasion of Panama,Noriega and Saddam Hussien were both on CIA payroll,AT 1:04mins photo of Bush with Noriega,At 2:42mins photo of Donald Rumsfeld shaking hands with Saddam Hussien.
-
The Panama Deception - TRAILER 3:37mins
Barbara Trent,director of The Panama Deception
At 1:16mins footage of large areas of Panama city destroyed by U.S. bombing of populated civilian areas
-
Q&A with Barbara Trent on her film THE PANAMA DECEPTION screening - 8:42mins
The Panama Deception has been broadcast in 52 nations internationaly but NOT in the USA it was outlawed in US controled Panama but many journalists gathered to show it in the city and forced the authorities to remove the ban.
At 2:32mins Barbara has many ex-CIA friends in South America who now help to reverse the damage they took part in causing.
At 5:18mins General Noriega's grandson speaks on stage
-
The Empowerment Project produces and distributes its own documentary films
---------------
George Bush senior was responsible for the military invasion of Panama in 1989 and the massacre of an estimated 3000 to 4000 thousand innocent defenceless men,women and children.
-
The Panama Deception - 1 hour 31mins (FULL LENGTH)
http://www.youtube.com/watch?
v=-zMmITXwSts
Barbara Trent,director of The Panama Deception
At 14mins president of Panama Tourihos was assasinated by CIA,general
Noriega was on the CIA payroll and was known by US government and
George Bush to be drug running but Bush increased his pay of American
tax payers money and made Noriega commander of the Panama military
At 44min and 45:10mins US soldiers executing totaly innocent Panamanians
At 48:50mins US soldiers prevent news camera crews from filming
At 48:57mins a Spanish news photographer who had taken photos of the
dead bodies in the morgue was shot
At 49:24mins photo of Spanish photographer lying in the road with his camera
aT 49:34mins US soldiers ransacked Panamanian radio and TV studios and
newpapers to prevent them putting out the truth then the US military
put out there own TV news a few days after the conflict.
At 53:17mins footage of raided and vandalised offices
At 1:10:00mins 50 mass graves in Panama the US military are
directly responsible for killing an estimated 3000 to 4000 thousand
men,women and children and burying them using bulldozers.
At 1:11:45mins people found dead with there hands tied behind there
backs and shot in the back of the head looks like US military executed
innocent civilians
At 1:18:40mins new CIA chosen Panama leaders were taken to a US
military base just before the US military invasion of Panama
At 1:21:05mins another reason for the invasion was to remove Noriega
who the US government accuse of the flow of drugs being sent to
the USA but cocaine traficking has doubled since Noriega was removed
and the new Panamanian elite backed by George Bush senior are now
controling and supplying cocaine to the USA
At 1:26:38mins Panamanians say there country has been ruined and they
publicly condemn George Bush who has left there country in ruins and
thousands of innocent dead
At 1:27:05mins George Bush senior makes a public speech in congress
TOTALY LYING to the American people who have been kept in ignorance
At 1:27:43mins THE MAIN REASON for the invasion was to remove the
Panamanian army which Noriega refused to do but the new installed
puppet leader of Panama Guillermo Endara changed the constitution in
1991 so that Panama could never have an army,the US army now
permanently defends the Panama canal.
-
---------
WE HAVE A BUNCH OF CRAZIES RUNNING AMERICA,legalised criminals,so when
is George Bush going to prison for mass murder or seeking psychiatric
help for his insane political rationality? What has the murder of
thousands of innocent Panamanian civilians got to do with removing
Noriega and the Panamanian army,ABSOLUTELY NOTHING.
-
The Empowerment Project produces and distributes its own documentary films
-